Apples To Apples - Expansion Set 4 ("Pairs") - Red Apples (2002 Printing)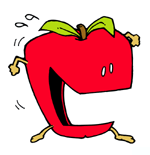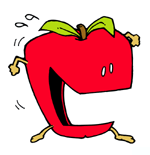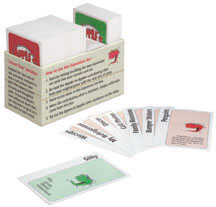 A Fool & His Money - Are soon parted... especially on Wall Street.
Abbot & Costello - Comedy team who had everyone guessing - "Who's on first?"
Adam & Eve - A relationship of Biblical proportions.
AM & FM - Making waves in radio.
Anna & The King - The 1999 film romanticizing the story of Anna Leonowens and King Mongkut of Siam.
Antony & Cleopatra - Roman general and Egyptian queen. A love affair that wouldn't die. Oh, wait, it did.
Apples & Oranges - Don't even TRY to compare them.
Arm & A Leg - Sure, they were free, but just try replacing them.
Arsenic & Old Lace - The hilarious dark comedy written by Joseph Kesselring, or the 1944 film adaptation by Frank Capra.
Assault & Battery - That would be a single "A" battery.
Ball & Chain - Don't let it get you down.
Barbie & Ken - Ah, to be blond and plastic...
Batman & Robin - Superheroes or vigilantes, you make the call.
Bats & Balls - At least they don't go on strike.
Beauty & The Beast - A French fairy tale, animated by Disney in 1991.
Beavis & Butt-Head - He said "butt." Huh-huh. Huh-huh.
Bed & Breakfast - Not the same as breakfast in bed.
Beer & Pretzels - "these pretzels are making me thirsty" - Cosmo Kramer, Seinfeld
Being & Nothingness - Jean Paul Satre's 1943 work based on the distinction between things that exist by themselves and those that exist for themselves.
Bells & Whistles - It's got everything!
Bert & Ernie - Sesame Street's muppet buddies.
Bill & Ted - Characters in Keanu Reeves' excellent time-travel adventure film. Yeah, dude.
Blood & Tears - Don't forget the sweat.
Boardwalk & Park Place - Top of the line in the real estate game.
Body & Soul - Just tryin' to keep it all together.
Bonnie & Clyde - American outlaws of the 1920s, played by Faye Dunaway and Warren Beatty in the 1967 film.
Bow & Arrows - More effective than sticks and stones.
Bread & Water - Make that a baguette and a bottle of Perrier.
Breaking & Entering - "Honest, Officer, I lost my keys."
Bride & Groom - "With this ring..."
Brooks & Dunn - Extremely successful country & honky-tonk music duo. "If they don't dance, you're dead." - Ronnie Dunn
Brothers & Sisters - "You can pick your friends, but..."
Bulls & Bears - On or off Wall Street.
Burger & Fries - You want flies with that?"
Buttons & Bows - Cute as a button, or a bow.
Calvin & Hobbs - Bill Waterson's late, great comic strip featuring a little boy and his tiger.
Carrot & A Stick - The ultimate motivator... for a donkey.
Cat & Mouse - It's just a game.
Cats & Dogs - Is it raining?
Catsup & Mustard - The salsa revolution brought down their condiment empire.
Charles & Diana - A right royal marriage.
Chips & Dip - No double dipping!
Chips & Salsa - Nacho average snack!
Chutes & Ladders - A game of ups and downs.
Cockles & Mussels - "Alive--alive-o!" I think I just lost my appetite.
Cops & Robbers - When fighting crime was just child's play.
Corned Beef & Cabbage - It's not chopped liver.
Coughing & Sneezing - And no cure in sight.
Cowboys & Indians - How the west was won... and lost.
Crash & Burn - Try, try again.
Cream & Sugar - Do you want some coffee with that?
Crime & Punishment - Fyodor Dostoevsky's 1917 classic novel following the tormented life of the murderer Rodion Romanovich Roskolnikov.
Cup & Saucer - Tea Time!
Curds & Whey - What? It's just cottage cheese?
Currier & Ives - The lithography shop operated from 1834 to 1907 and produced over 7500 titles, all of which could have been called "Life In America."
Cut & Curl - You'll look mah-velous!
Dallas & Fort Worth - The heart & soul of Texas.
David & Goliath - Bible story featuring the future king David and the Philistine giant Goliath. The bigger they come, the harder they fall.
Death & Dying - The only way out.
Death & Taxes - The two certainties in life.
Dinner & A Movie - And a mortgage to pay for it.
Doctors & Dentists - For a long life and healthy teeth.
Dollars & Cents - "If it don't make dollars, it don't make sense." - DJ Quik
Dr. Jekyll & Mr. Hyde - Robert Louis Stevenson's 1887 novel revealing the hypocrisy and innate evilness in society. The idea came to him in a dream - a bad dream.
Drinking & Driving - Friends don't let friends drive drunk.
Dungeons & Dragons - Popular role-playing game featuring swords, sorcery and wizards. Repeat after me: it's a game... it's only a game...
Ebony & Ivory - "Ebony and Ivory live together in perfect harmony." - Paul McCartney
Fame & Fortune - Everybody may have 15 minutes of fame, but fortune is another thing altogether.
Fear & Loathing - In Las Vegas, or anywhere else.
Ferdinand & Isabella - Late 15th century king and queen of Spain. They backed Christopher Columbus and benefitted royally.
Field & Stream - The hunter's best friend.
Fish & Chips - Just wrap it in any old newspaper.
Flowers & Candy - When "I'm sorry" is not enough.
Food & Shelter - Gotta have it.
Foot & Mouth - An infectious disease of animals with hooves. Not the same as foot-IN-mouth disease which affects everybody at one time or another.
Forever & Ever - "Oh baby, I'm gonna love you forever / Forever and ever amen." - Randy Travis
Freaks & Geeks - The 1999 television show, or those outside the social norm.
Fred & Ginger - Fred Astair & Ginger Rogers - tap dancing their way into the hearts of millions.
Fred & Wilma - Meet the Flintstones. "Yabba-dabba-doooo!"
Friends & Family - There when you need them.
Frog & Toad - Characters in a series of children's books by Arnold Lobel, or any of the millions of frogs and toads who choose not to wear clothes.
George & Jane, His Wife - The Jetsons television show first aired in 1962. In spite of our best efforts, cars still can't fly.
Ghosts & Goblins - "I see dead people." - Cole Sear, The Sixth Sense
Ginger & Mary Ann - "Here on Gilligan's Isle."
Gold & Silver - There's a good reason Fort Knox is full of golg and not silver.
Good & Plenty - The licorice candy was first produced in 1893, making it the oldest branded candy in the United States.
Goose & The Gander - If it's good for the goose...
Grease & Grime - What would Martha do?
Hammer & Nails - "If I had a hammer..." - Peter, Paul and Mary
Hammer & Sickle - An emblem of the Communist movement, now retired... as is the Soviet Union.
Hansel & Gretel - One of Grimm's grimmer fairy tales.
Harvard & Yale - "What? Like it's hard?" - Reese Witherspoon, Legally Blond
Hawks & Doves - The big birds of war and peace.
Heart & Soul - They're yours. All yours!
Heaven & Hell - The ups and down of the afterlife.
Here & There - And everywhere.
Hills & Valleys - Nature's little ups and down.
Hit & Run - An automobile crash, or a baseball play.
Hollywood & Vine - The Los Angeles street corner where dreams come true.
Hook & Ladder Trucks - One big reason to become a firefighter.
Hootie & The Blowfish - One of the most commercially successful pop bands to emerge in the 1990s. I go blind when I think about them.
Horse & Cart - Get the order right!
Hotels & Motels - Get a room!
House & Home - And money pit.
Husbands & Wives - For richer... hopefully.
Ice & Snow - "We come from the land of the ice and snow/ From the midnight sun where the hot springs blow." - Led Zeppelin
Jenna & Barbara - President Bush's daughters, the "First Twins."
Jonah & The Whale - The greatest fish story ever told, in the Bible, that is.
Kiss & Tell - Best to keep your mouth shut.
Knife & Fork - Knife on the right, fork on the left.
Lady & The Tramp - The 1955 Disney animated film featuring dogs, love and spaghetti.
Last Will & Testament - It may be your only chance to get the last work on anything.
Laurel & Hardy - Classic fat-skinny comedy duo of the 1920s.
Laverne & Shirley - The 1970s sitcom phenomenon that defined Milwaukee for the world. And Milwaukee's still trying to live it down!
Law & Order - The television show, or the concept.
Leather & Lace - It's a texture thing.
Lemon & Lime - Pucker up.
Lewis & Clark - The early 1800s expedition covered over 8000 miles and confirmed that the Louisiana Purchase was a very good deal.
Liberty & Justice - For all.
Lions & Tigers - And bears...
Lock & Key - Quit picking on me!
Lock & Load - It's off to war we go.
Love & Marriage - First comes love, then comes marriage...
Lox & Bagels - A deli favorite. Pass the cream cheese!
Lucy & Desi - Thirty years later and we still love Lucy.
M & M's - Candy coated chocolates first sold in 1941. Now available in purple.
Macaroni & Cheese - It's the easiest.
Me & My Shadow - "Strolling down the avenue..."
Meat & Potatoes - A simpler meal for a simpler time.
Mickey & Minnie - Mouse, that is. Disney's dynamic duo.
Milk & Cookies - The ultimate after-school special.
Minneapolis & St. Paul - The "Twin Cities" are Minnesota's largest population center. They may be twins but you can tell the difference.
Mom & Apple Pie - Worth fighting for.
Mom & Pop - Hey! Maybe they should open a store!
Monitor & The Merrimac - American Civil War ironclads, first fought each other in 1862.
Moon & The Stars - You want what?
North & South Dakota - It's all north.
Nuts & Bolts - A good way to stay connected.
Odds & Ends - It's in the junk drawer.
Oil & Filter - Let me top that off for you.
Oil & Vinegar - They don't mix, but we keep trying.
Pail & Shovel - I can dig it.
Paul McCartney & Wings - Life after The Beatles.
Peace & Love - Flower Power!
Peace & Quiet - Truly appreciated during parenthood.
Peaches & Cream - A great complexion and a great dessert.
Peanut Butter & Jelly - On white bread; cut off the crusts.
Peanuts & Popcorn - It's a crackerjack combination!
Pebbles & Bamm-Bamm - The cartoon kids from The Flintstones. BAM-BAM, BAM-BAM, BAM-BAM.
Pencil & Paper - We're drawn to them!
Penn & Teller - Magicians, illusionists, entertainers, and comedians.
Phone & Fax - Soon you won't need to leave the house at all!
Pins & Needles - It's all sewed up!
Pomp & Circumstance - La-de-da.
Pork & Beans - Rustle us up some grub, Cookie.
Power & Glory - The spoils of war.
Pride & Prejudice - Jane Austin's 1813 classic novel expounding on the consequences of pride.
R & B - Rhythm and Blues.
R & D - Research and Development.
R & R - Rest and relaxation, recreation, or could be recuperation.
Reading & Writing - Old-fashioned skill, amazingly still useful today.
Regis & ... - Kathy Lee or Kelly - your choice.
Rice & Beans - South-of-the-border meat & potatoes.
Rock & Roll - It'll never die. Unlike Rock and Roll musicians.
Rod & Reel - He took it hook, line, and sinker.
Rogers & Hammerstein - Kings of the Broadway Musical: The Sound of Music, The King and I, South Pacific, and many, many more.
Salt 'N Pepa - Extremely successful rap group formed in the 1980s, known for their portrayals of the woman's perspective on relationships.
Salt & Pepper - "Pump it up a notch! BAM!" - Emeril Lagasse.
Sand & Surf - Life's a beach!
Shake & Bake - ... and eat.
Shave & A Haircut - Two bits.
Sin & Redemption - Everybody deserves a second chance.
Skin & Bones - What would you be without them?
Slash & Burn - And there goes another rain forest...
Slice & Dice - A sharp knife is a safe knife.
Slip & Fall - Watch out for ... too late!
Smith & Wesson - Firearms when ready!
Smoke & Mirrors - That's how we do it!
Snips & Snails - And puppy dog tails.
Snoopy & The Red Barron - Characters in the Peanuts comic strip. Talk about a dog fight!
Space & Time - Infinite.
Spiders & Snakes - Creepy! Legs or no legs.
Spit & Polish - We could do with less spit and more polish.
Stalactites & Stalagmites - The ups and downs of spelunking.
Stanley & Livingston - Britons who explored Africa, I presume.
Stars & Stripes - Three cheers for the red, white, and blue!
Sticks & Stones - When words are not enough.
Stocks & Bonds - At least they're worth the paper they're printed on... We hope.
Sugar & Spice - And everything nice.
Suit & Tie - It's business as usual!
Surf & Turf - Steak and lobster. No need to choose.
Tarred & Feathered - It's a sticky situation.
Tarzan & Jane - He went ape over her.
Tea & Crumpets - Upper-crust toast & jelly.
The Atlantic & Pacific - Oceans apart.
The Birds & The Bees - We'll tell you about them sometime.
The Chicken & The Egg - Which came first? The egg. Look it up!
The Princess & The Pea - The true test of a princess, fairy tale or otherwise.
The Young & The Restless - Launched in 1973, this soap opera isn't young, but it's still restless.
Thelma & Louise - 1991 Ridley Scott film starring Susan Sarandon and Geena Davis as two over-the-edge women.
Three Men & A Baby - The 1987 comedy film. You do the math.
Thunder & Lightning - Nature's fireworks.
Tom & Jerry - A good chaser.
Track & Field - It's eventful.
Trinidad & Tobago - Tiny, lush Caribbean republic. One of the most prosperous countries in the area due to petroleum and natural gas production.
Truth & Justice - Sounds good on paper.
Turkey & Stuffing - Get stuffed.
Venus & Mars - As different as men & women.
War & Peace - Tolstoy's 1805 epic novel of the Napoleonic wars, a celebration of Russian spirit.
Washer & Dryer - Take them out for a spin.
Weed & Feed - Make sure the grass is greener on YOUR side of the fence.
Whips & Chains - Popular before prison reform - the good old days.
Will & Grace - Popular sitcom debuted in 1998. Not your average next door neighbors.
Yin & Yang - Two elements that oppose each other and give life balance. If you're lucky.



If you have e-mail regarding this Apples To Apples page, e-mail either here to return to the Apples To Apples Expansion Set 4 page.
Click here to return to the Apples To Apples main page.