Apples To Apples - Junior - Red Apples (2002 Printing)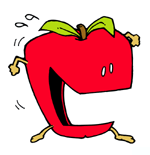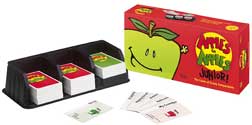 A Fairy - A tiny creature who has magical powers and can fly, like Tinkerbell.
A Forest - Home to Bambi, Winnie the Pooh, Robin Hood, and many woodland animals.
A Giant - A very large and powerful person. When Jack climbed the bean stalk, he met a hungry giant.
A King - King Arthur became famous when he pulled a magical sword from a stone.
A Pile Of Leaves - Rake them up and jump in!
A Queen - A wicked queen tried to kill Snow White with a poison apple.
A Saw - A metal tool with sharp teeth used to cut metal and wood. Some are used as musical instruments.
A Surprise - Something that is unexpected, like a present from a friend.
Airplanes - I want to sit by the window!
Aladdin - Folktale character who found a magic lamp with a gentle genie inside.
An Igloo - A domed-shaped house made from blocks of hard snow or ice.
Ants - Some are black and some are red. I don't want them in my bed!
Apple Juice - Baby's first juice.
Apples - Johnny Appleseed traveled across the United States planting seeds for apple trees.
Babies - Very young children or infants. They cry a lot!
Baby Dolls - Some of them talk, some of them walk, and some even wet their pants!
Babysitters - The good ones let you stay up late.
Bad Dreams - Like good dreams, but with monsters.
Baking Cookies - Mix up the dough and put them in the oven.
Balloons - Lots of colors, shapes, and sizes.
Bananas - Monkeys like them a bunch!
Barbie Dolls - Tall, thin, fashion dolls with lots of clothes and tiny feet.
Barney - A large, purple dinosaur. "I love you, you love me."
Batman - A superhero who wears a black mask and cape. He drives the Batmobile.
Bats - Either furry little animals that fly, or sticks used to hit baseballs.
Beanie Babies - Little bean bag creatures that can be played with or collected.
Bears - Large, shaggy animals with sharp claws and little tails. Sometimes they are named Teddy.
Beets - Round purplish-red vegetables. Do you like beets?
Bert And Ernie - Two nice guys in striped shirts who live on Sesame Street.
Big Bird - A very large, yellow bird who lives on Sesame Street with Bert and Ernie.
Big Cities - Very large towns, like New York, Los Angeles and Chicago.
Birds - "Birds of a feather, flock together."
Birthday Cake - What kind of cake, white or chocolate?
Blowing Bubbles - The bigger the better!
Blowing Your Nose - Please use a tissue!
Boats - "Row, row, row your boat!"
Boys - "Snips and snails and puppy dog tails."
Buddies - Good friends - people and pets.
Bugs - Ants, beetles, spiders, and roaches. It's "A Bug's Life."
Bugs Bunny - A tall, skinny cartoon rabbit. "What's up, Doc?"
Bumble Bees - Large, fuzzy bees with yellow and black stripes. Watch out - they sting!
Candles - How many candles are on your birthday cake?
Candy - Lollipops, jelly beans, chocolates, and lots more.
Catfish - Fish with feelers that look like whiskers.
Charlie Brown - "Peanuts" cartoon character, friend of Linus and Lucy.
Cheese - Swiss cheese, American cheese, cottage cheese. Say cheese!
Cherry Pie - A flaky pastry filled with cherries.
Chickens - Hens and roosters. Cluck-cluck, cock-a-doodle-do!
Christmas - December 25th, a Christian holiday that is celebrated around the world.
Cinderella - A storybook character who is helped by her fairy godmother. Bibbidi-bobbidi-boo!
Cleaning Your Room - It's no fun, but you have to do it.
Clowns - They often dress in silly outfits and paint their faces!
Corn On The Cob - It's a summertime treat that gets stuck in your teeth.
Cotton Candy - Looks like cotton; tastes like candy.
Cowboys - Men who take care of cattle on a ranch.
Cows - Large farm animals raised for milk. Moo.
Dancing - Moving your feet and body in time with music. Cha-cha-cha.
Dinosaurs - Reptiles that lived millions of years ago. Some, like the T. rex, were huge!
Dirty Diapers - It must be time to change the baby!
Dirty Socks - Put them in the wash!
Disneyland - A theme park featuring cartoon characters like Mickey Mouse and Donald Duck..
Doing The Dishes - I'll wash the dishes and you can dry.
Dragons - Pretend animals that look like giant lizards with wings. Sometimes they breath fire!
Drums - Beat it!
Ducks - Large birds with webbed feet and a flat bill. Quack-quack-quack!
Dumbo - A little elephant cartoon character. When he flaps his ears, he can fly!
Elephants - Huge gray animals with large ears and trunks. Some elephants have tusks.
Face Paint - You can be a clown, a pirate, a cat, or whatever you want.
Farms - A place where animals and crops are raised for food. "Old McDonald had a farm."
Finger Painting - Just paint with your fingers. No brush needed!
Fire - Don't get burned!
Firefighters - Their job is to put out fires. They also get to drive fire engines.
Fireworks - Bright, explosive displays often used for the 4th of July. Bang-Boom-Pop-Pop! Ohhh-Ahhh!
Fishing - The perfect way to spend a summer day. Maybe you'll catch a big one!
Flying A Kite - Don't let go of the string!
Football Players - Punt, pass, and kick!
Fourth Of July - The United States Independence Day. Lots of picnics and fireworks!
Frosty The Snowman - This snowman has a corncob pipe and a button nose.
Fur - The soft, hairy covering on the skin of some animals.
George Washington - First president of the United States.
Getting Mail - Letters, cards, magazines and packages. Is there anything for me?
Getting Sick - Oh, I don't feel very good.
Girls - "Sugar and spice and everything nice."
Glue - Very sticky stuff!
Going To A Movie - Get some popcorn and watch the show.
Going To The Dentist - Have you brushed your teeth today?
Gold - Rare yellow metal used to make coins and jewelry.
Goldfish - Little orange fish that you can keep as pets.
Grapes - Small round fruit that grows in bunches, usually purple, red or green. They make good snacks!
Grassy Hill - Good for rolling down, flying kites, and playing games.
Grocery Stores - Good places to buy food, supplies and candy!
Gummi Bears - Little rubbery candies shaped like bears.
Hanukkah - An eight day long Jewish celebration that usually occurs in December.
Homework - School work that is meant to be done at home. Don't forget to do it!
Hot Chocolate - A good drink on a cold day. Just add marshmallows!
Hot Wheels Cars - Small, metal cars to play with and collect. They can go over 300 miles per hour downhill!
Hotdogs - A sausage served at ballgames and cookouts. They are NOT made from dogs!
Hugs - There are bear hugs, Grandma hugs, friend hugs, and love hugs.
Ice Cream - "I scream, you scream, we all scream, for ice cream!"
Ice Skating - You can do fancy turns, have a race, go backwards, or just glide.
In The Basement - You never know what you will find down there.
Itchy Clothes - Rough, prickly, scratchy - they're awful!
Jail - A place for keeping people who have broken the law.
Jell-O - A solid, clear treat in lots of fruit flavors. It wiggles and jiggles!
Jumping Rope - Twirl the rope and jump!
Kangaroos - Large animals from Australia that hop. Mother kangaroos carry their babies in pouches.
Kittens - Baby cats, usually playful and fuzzy. Meow.
Ladybugs - Small, round red or orange beetles with black spots. They can fly!
Lemons - Sour yellow fruit. Add sugar and water and you can make lemonade!
Lifeguard - A person whose job it is to help and protect swimmers.
Lightning - An electrical flash of light in the sky, usually during a rainstorm.
Lions - King of the jungle. Roar!
Macaroni And Cheese - A good, hot meal that's fun to eat.
Madeline - Brave storybook character who lived in an old house in Paris that was covered in vines.
Mail Carrier - A person who brings the mail to your house, no matter what the weather.
Mickey Mouse - Disney cartoon character, friends with Minnie Mouse and Goofy.
Mittens - "Three little kittens; they lost their mittens."
Monster Trucks - Large, noisy trucks that drive over cars and crush them.
Monsters - Some people think they live in closets, basements, or under beds.
Mountains - Very high hills. Some have snow at the top, even in the summer!
Muddy Feet - Squish your toes!
My Dad - Father, Daddy, Papa.
My Grandma - My mom or dad's mother.
My Grandpa - My mom or dad's father.
My Hair - You can curl it, cut it, and color it!
My Home - There's no place like home!
My Mom - Mother, Mommy, Mama.
My Room - Where I sleep and keep all my things. KEEP OUT!
My Shoes - Old shoes, new shoes, red shoes, blue shoes.
My Teacher - If you can read this card, thank a teacher!
Night - You can see stars and the moon in the sky.
Oatmeal - A hot cereal made from oats. It sticks to your ribs, and to the floor!
Onions - Round root vegetables with a strong smell and taste. They might make you cry!
Oranges - Round orange fruit, often made into juice. Some oranges have navels.
Outer Space - Where the sun, moon, and planets are located. Maybe you'll visit there some day.
Owls - Birds with large eyes and heads. They eat mice and snakes. Hoot-hoot.
Pajamas - Clothes you sleep in. Some have feet!
Parties - Birthday parties, slumber parties, Halloween parties. They're all fun!
Peanut Butter - A soft, creamy spread made from peanuts. Sometimes it sticks to the roof of your mouth.
Penguins - Black and white sea birds found in Antarctica. They can't fly, but they sure can waddle.
Peter Pan - A book and movie character who could fly. He never wanted to grow up!
Picnics - Pack up your food and a blanket, and go to your favorite park or beach.
Pine Trees - Trees that stay green all year and have pinecones and needles. They smell great!
Pirates - People who rob ships at sea. Blackbeard was a famous pirate.
Pizza - Cheese, sausage, pepperoni, onions, and mushrooms. Pick your toppings!
Play-Doh - A colorful clay-like dough used for making shapes.
Playgrounds - Some playgrounds have slides, swings, and sandboxes.
Playing Checkers - A game for two using a checkerboard and 24 round game pieces. Jump, jump, jump - KING ME!
Popcorn - A good movie-time snack.
Pounding Nails - Use a hammer and watch your fingers.
Prince Charming - The handsome prince who rescued Cinderella from her hard life. They lived happily ever after.
Pulling Weeds - The job nobody likes to do.
Puppies - Young dogs. They'll chew on your shoes and bark all night.
Rabbits - Small, furry animals with long ears and short, fluffy tails. They like carrots and other vegetables.
Raccoons - They come out at night. The dark fur around their eyes looks like a mask.
Raggedy Ann - a little red-headed rag doll with a triangle shaped nose.
Rats - Gray or brown animals that look like very large mice. Usually pet rats are white.
Reading A Book - A good book is like traveling to a new world.
Recess - My favorite subject in school!
Riding A Bike - Remember to wear your helmet.
Riding A Horse - Grab the reins and hang on!
Rivers - Can you spell Mississippi?
Ronald McDonald - The clown from McDonald's restaurants.
Root Beer - A sweet, brown drink that is fizzy and foamy. Add ice cream to make a root beer float!
Rugrats - A cartoon about the adventures of Tommy, Chucky, Angelica, and Phil and Lil.
School Buses - Large, yellow buses used to take children to school.
Screaming - NOT SO LOUD!
Seashells - The outer shells of sea animals. You can find them on the beach.
Sesame Street - Children's television show featuring Big Bird. "Can you tell me how to get to Sesame Street?"
Sharks - Meat-eating fish known for their speed, sharp teeth, and the large fins on their backs.
Singing - Making music with your voice. La-la-la.
Skunks - Black, bushy-tailed animals with one or two white stripes down their backs. Stinky!
Sledding - It would be more fun if you didn't have to climb back up the hill.
Sleep - "Don't let the bedbugs bite."
Smoke - "Where there's smoke, there's fire!"
Snakes - Long, thin reptiles without arms or legs. Their forked tongues are used for smelling.
Snoopy - The little, white beagle from the "Peanuts" cartoon.
Snow White - "Mirror, mirror, on the wall, who is the fairest of them all?"
Snowballs - Just right for throwing!
Snowstorm - Lots of snow blowing around. Maybe school will be closed!
Soccer - A favorite team sport for kids. KICK IT!
Spaghetti - Looks like a plate of worms!
Spiders - They have eight legs and they spin webs to catch their food.
Spit - Spit that gum out right now!
Squirrels - Small animals with big brown eyes and bushy tails. They like nuts and can run on telephone lines.
Stars - Points of sparkling light that you can see in the night sky. Make a wish!
Stuart Little - A clever little mouse who is a character in a book and a movie.
Summer - SCHOOL'S OUT!
Summer Camp - Day camps and sleepover camps. Either way, you'll have lots of fun.
Sunflower - Tall plants with large, yellow flowers. Toast the seeds for a tasty snack.
Sunshine - Warms the Earth and helps plants to grow.
Swimming - A great way to cool down on a hot summer day!
Taking A Bath - Don't Forget the bubbles and toys.
Teletubbies - Colorful characters with televisions in their stomachs. Tinky Winky is purple.
The Circus - A show featuring trained animals, clowns and acrobats.
The First Day Of School - Get your backpack, your lunch, and get going!
The Little Mermaid - A character in a folktale who gave up her home under the sea so that she could live on land.
The Zoo - "Oh! Lions and tigers and bears. Oh my."
Throwing Rocks - Be careful so that you don't break any windows.
Throwing Up - It's proof that you really are sick.
Thunderstorms - Don't stand under a tree if you hear thunder!
Tomatoes - Most people don't know that a tomato is a fruit.
Toys - Stuffed animals, action figures, dolls, balls, and lots more. Everyone loves toys!
Trains - "The Little Engine That Could" is a story about a train that climbs over a mountain.
Treehouse - A playhouse built in a tree. The Swiss Family Robinson lived in a treehouse on an island
Turtles - They pull their legs and heads inside their shells for safety.
Under My Bed - A good place to hide, if it's not too messy.
Watching TV - Cartoons and commercials, movies, commercials, shows, commercials, sports, and commercials.
Waterfalls - Water flowing from a cliff or other high place. Niagara Falls is over 160 feet high!
Watermelon - How far can you spit the seeds?
Weddings - Here comes the bride!
Whales - Very large animals that live in oceans. They squirt water from a blowhole.
Winnie The Pooh - There's never enough honey for Pooh Bear!
Witches - They are famous for their pointy noses, black hats and broomsticks.
Worms - A favorite food of robins.
Yo-Yos - There are lots of tricks that you can do with a yo-yo.



If you have e-mail regarding this Apples To Apples page, e-mail either here to return to the Apples To Apples Junior page.
Click here to return to the Apples To Apples main page.