Apples To Apples - Junior 9+ (Second Edition) - Red Apples (2005 Printing)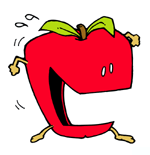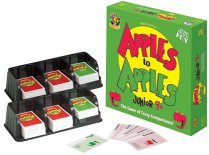 A Bakery - Some bakers start work at 3:00 in the morning, so breads and donuts are fresh for breakfast.
A Broken Leg - I was riding my bike when I hit this big rock . . .
A Cookbook - The best ones include favorite family recipes.

A Crown - A crown is a symbol of royalty.

A Desert - Hot, dry and sandy.
A Dollar - Spend it wisely!

A Funeral - A ceremony held to honor a person who has died.
A Leaky Boat - Time to bail out.

A Log Cabin - Just cut down a few trees and make a house.

A Mermaid - An imaginary creature with the upper body of a woman and the tail of a fish.

A Microwave Oven - You'll have popcorn in two minutes.

A Movie Theater - When you want a REALLY big screen.

A Mummy - In Egypt there are mummies that are over 3,000 years old.

A Parade - I love a parade.

A Piano - A piano is a percussion instrument, like a drum or cymbal.

A Prince - Some are real, but most are just in fairy tales.

A Princess - Some are real, but most are just in fairy tales.

A Refrigerator - First stop after school.

A School Dance - No chicken dance or hokey-pokey!
A Submarine - It's a sandwich shaped like a boat.or a boat shaped like a sandwich.

A Swimming Pool - No diving in the shallow end.
A Volcano - Hot lava!
Abraham Lincoln - President of the U.S. during the Civil War. He was called "Honest Abe."
Actors - If they're really good, you can't tell they're acting.

Actresses - "Romeo, Romeo, wherefore art thou." Romeo and Juliet by William Shakespeare.

Africa - The continent located between the Atlantic Ocean and Indian Ocean.
Airplane - The Wright Brothers were "wright" when they added power to a glider in order to make it fly.

Alaska - The 49th state. It's the home of Mount McKinley.

Aliens - They're not from around here!
Alligators - Large reptiles with strong jaws and long tails. Their skins are made into shoes and purses.
Artists - So creative!
Astronauts - It's a great day for a space walk!

Baby Food - Strained peas and mushy meat. Doesn't that sound good?
Backyards - Your playground at home!
Bacon - Meat from a pig, flavored with salt and smoke. Oink!
Bald Eagles - They're not really bald. The white feathers on their heads make them look that way.
Ballerinas - It takes years of training before a ballerina can dance in toe shoes.
Band-Aids - Available in lots of colors and shapes. A fun way to cover cuts and scrapes.
Barbershops - It's a beauty shop for guys.

Baseball Fields - It's 90 feet from home plate to first base. But it seems longer when you're trying to reach it!

Baseball Games - "One, two, three strikes, YOU'RE OUT!"
Basketball - Some basketball players are over seven feet tall.
Beach Balls - Blow them up and watch them blow away!
Bee Stings - Leave the bees alone- and they'll leave you alone.

Beef Stew - Meat, potatoes, carrots, onions...

Belt Buckles - Cowboys like them fancy and pilgrims like them plain.

Big Dogs - An adult Saint Bernard weighs over 170 pounds.
Bingo - Get five in a row. BINGO!

Black Cats - They're not really bad luck!

Blood - Blood carries oxygen and nutrients throughout the body.

Blueberries - Blueberries will stain your teeth. Smile!
Bowling - A game played by rolling a heavy ball so that it knocks down wooden pins. A perfect score is 300.
Boy Scouts - On my honor, I will do my best... and learn to camp.

Boyfriends - We're just friends!

Braces - No more gum, no caramels, no corn on the cob.
Brains - It's all in your head.
Brothers - Oh, brother!
Bruises - The dark color of a bruise is caused by broken blood vessels under the skin.

Brushing Your Teeth - Oh! What's that gunk stuck on your teeth?
Bubble Bath - Just add water!

Bubble Gum - Chewing is easy, blowing bubbles is hard, getting it out of your hair is even harder.
Buffalo - A large animal with a big, shaggy head and a hump on its back, native to North America.
Bullfighting - A traditional sport in some Spanish speaking countries.

Bunk Beds - Two single beds, one on top of the other. I want the top!
Burned Toast - Want some burned bacon with that?
Bus Drivers - Don't bother the bus driver.
Butter - What's better than butter?
Butterflies - Butterflies flutter by.
Buzz Lightyear - The animated star of Toy Story. "To infinity and beyond!"

Camels - One hump or two?

Cameras - "And this is a picture from our summer vacation..."

Campfire - S'mores and songs. Gather 'round!

Camping - Shhh! Did you hear that noise?
Canada - Largest country in North America. Canada is located north of the U.S.
Candy Corn - It may be corn but it's not a vegetable.
Canoes - Light, narrow boats. Don't stand up!
Car Crash - Always wear your seatbelt.
Card Games - "Apples to Apples" might be fun!
Carpenters - Hammering and sawing- it's just wood work.

Carrots - Bugs Bunny's favorite food.
Castles - Some have towers, dungeons and moats.
Catsup - Catsup is made from tomatoes, onions, sugar, and spices.

Cattle Ranch - Home on the range.

Caves - Dark and cool, and sometimes home to bats.
Cavities - But I did brush my teeth!

CD Players - Your portable, personal stereo system.

Cell Phones - Call home if you're going to be late.

Charlotte's Web - Award-winning book by E.B. White featuring Charlotte the spider, and a pig named Wilbur.

Cherries - And a cherry on top!

Cheerleaders - "Go, Team, Go!"
Cheese Sandwich - Two pieces of bread and a slice of cheese. Grill it, if you want.
Chewing Your Fingernails - Hungry?

Chicken Nuggets - Bite-sized pieces of fried chicken. Finger food!

Chicken Pox - An illness that comes with a fever and itchy red bumps. Don't scratch!
China - There are over one billion people living in the People's Republic of China.

Chocolate Milk - Good for you and tastes good too!
Chopsticks - A pair of small, slender sticks used for eating. Just try eating peas.

Churches - "Here is the church, and here is the steeple..."

Clay - The oven where pottery is hardened is called a kiln.
Climbing A Ladder - Don't look down!
Climbing A Tree - Don't go out on a limb!

Clouds - I see an elephant! And that one looks like a rabbit.
Coffee - Two-thirds of the world's coffee beans are grown in Central and Southern America.
Collection Shells - She sells seashells by the seashore.
Computers - Great for games, homework, and e-mail.
Cookies - Chocolate chip, oatmeal, sugar or peanut butter.
Cooking Dinner - What's for dinner?
Coral Reef - Composed of the skeletons of marine organisms. Home to lots of tropical fish.

Cutting The Grass - Why cut it? It just grows back.

Dance Class - Step, turn, hop, hop, kick...

Corn Flakes - Eat them fast or they'll get soggy.
Crying - "Don't cry over spilled milk."
Cupcakes - Small cakes, the size of a cup.
Dark Alleys - I thought you brought the good flashlight!

Dead Fish - Floating in the water, washed up on shore, or at a fish market.
Dictionaries - Let me look that up!

Dirt - Good in the garden.
Dirty Dishes - That's why they make paper plates!

Doctors - Stick out your tongue and say aaaaah!
Dog Food - I like the chewy kind.

Dolphins - Dolphins are mammals that live in the sea, and Sea World.

Donuts - In 1993, a doughnut weighing over 3,700 pounds was made in Utica, N.Y.

Doorbells - Would someone please answer the door?
Driving A Car - In most states, you have to be 16 years old to drive a car.
Dump Trucks - Large trucks that carry dirt, sand, and rocks.
Early Morning - "The early bird gets the worm!"

Ears - What?

Eating Breakfast - It's always breakfast time at a truck stop.
Egg Rolls - Crunchy rolls filled with vegetables and meat. Available at Chinese restaurants.
Eggs - Birds, fish, snakes and insects all lay eggs.
Elevators - The 110-story Sears Tower in Chicago has 104 elevators.

Elmo - A little, red, fuzzy guy from Sesame Street. Tickle me!
Erasers - Because everybody makes mistakes.

Eyes - Flies have five eyes.
Factories - Oompa-Loompa! Willy Wonka and the Chocolate Factory!

Fairies - Tiny storybook characters with wings and magic powers.
Farmers - There's a farmer in the dell.
Feathers - Feathers protect a bird's skin, keep them warm, and help them fly.
Flags - There are fifty stars and thirteen stripes on the flag of the United States of America.
Flashlights - Good for camping and reading under the covers.
Flies - A group of insects with wings. They enjoy picnics.
Flip-Flops - It's the sound they make when you walk.

Floods - Heavy rains and melting snow can cause floods.
Flour - Flour is made by grinding wheat and other grains.

Flower Gardens - No weeds allowed.

Football - It's a ball AND a game.
Forest Fires - Lightning can start forest fires.
Fortune Teller - "My crystal ball says ..."

Freckles - The more the merrier!

French Fries - In Europe, French fries are usually eaten with a fork.
Frogs - Some frogs can jump 20 feet.
Frozen Peas - Right under the frozen pizza.

Garages - Little houses for cars.

Garbage Cans - A restaurant for raccoons.
Gas Stations - How far to the next gas station?
Getting A Haircut - It will always grow back.
Getting A Shot - It's better than getting sick!
Getting Head Lice - Tiny insects that live on the human scalp. Millions of children get head lice each year.

Getting Lost - Now, where did they go?
Getting Stitches - Now they can sew you up or glue you back together.

Getting The Flu - Stay home, drink juice and watch TV.

Ghosts - A pale, shadowy form, and a favorite Halloween costume.
GI Joe - He's an "action figure," not a "doll."

Girl Scouts - I will do my best to be honest and fair, friendly and helpful... and sell lots of cookies.

Girlfriends - We're just friends!

Glass - Glass is made by melting sand with potash or other chemicals.
Globes - The world at your fingertips.

Goats - Goats have short horns and beards. They'll eat anything.
Going On A Safari - Don't feed the lions!

Going On Vacation - Pack your bags!

Going To School - The easiest way to get an education.
Gorillas - Large, strong members of the monkey family. Gorillas come from Africa.
Grape Jelly - It's perfect for peanut butter and jelly sandwiches.
Grapefruit - Not a grape, but it is a fruit.

Gravy - Sauce made from meat juices. Got to have it on mashed potatoes.
Green Beans - Long, thin beans that you can eat raw or cooked.
Guitars - ROCK AND ROLL!

Gymnastics - Tucks, vaults and handsprings- it's harder than it looks.

Halloween - The October 31st celebration featuring costumes, treats, and other spooky stuff.

Ham Sandwhich - Ham is pork. Pork is pig. It's a pig sandwich!

Hamburgers - Do you want fries with that?
Hammerhead Sharks - The name for these sharks comes from the unusual shape of their heads.

Hammers - "I'd rather be a hammer than a nail."
Hamsters - These little rodents store food in their cheeks.

Harry Potter - The hero in a series of books by J.K. Rowling featuring wizards and muggles.
Haunted House - If there's a ghost- it's haunted!

Having A Party - Invitations, snacks, games, music... it's a party!

Helicopters - The spinning blades keep the helicopter in the air- somehow.

Hiding Places - It's a secret.
High Heels - No running.

High School - Most students start high school when they are fourteen.
Hiking In The Woods - It's an adventure.
Hippopotamus - Hippos are also called "river horses" and only eat plants.

Hitting A Home-Run - Going... going... CRASH... through the neighbor's window!

Hockey - Skate! Pass! Score!
Honey - A sweet, thick, gold liquid made by bees.
Hopscotch - All you need is a sidewalk, chalk, and a rock.

Horses - Black Beauty, the Black Stallion, and Flicka are famous horses in literature.
Hospitals - The ambulance is the fastest way to get there.
Hot Tubs - Of course it's hot- it's a hot tub!

Hunters - Wolves, hawks, owls, and people all hunt for food.
Ice - Good for drinks in the summer and skating in the winter.
In The Attic - Old clothes, old toys, old furniture, and more old stuff.

Inchworm - An inchworm is actually a small, hairless caterpillar.

Jelly Beans - Jelly beans are now available in 50 different flavors!

Juggling - Start with two and see how you do.
Kickball - You'll get a kick out of it!

Kindergarten - "A, B, C, D, E, F, G... Won't you sing along with me?"

Kisses - Chocolate kisses are the best!
Learning Spanish - Who knows, maybe you'll need it someday.

Learning To Ski - Put on the ski boots, then the skis, then get up to the top of the hill...

Lego Building Blocks - Get more blocks! We're building the Golden Gate Bridge.

Legs - People have them, animals have them, even tables have them.

Lemonade - Needs more sugar!

Life Jackets - It won't work if you don't wear it!

Listening To Music - Nobody's home... play it loud!

Little Brown Mice - EEEK!

Lizards - The Komodo dragon is the largest living lizard. They can grow to over ten feet long.
Llamas - South American animal related to the camel, raised for wool, and used as pack animals.
Lobsters - Their large claws are actually their front pair of legs.

Long Hair - Braid it, tie it in a ponytail, or just let it fly in the wind.
Losing Your Backpack - "I know I had it on the bus..."

Love Letters - "Roses are red, violets are blue..."

Magic Tricks - Now you see it, now you don't!
Martin Luther King, Jr. - He believed that everyone should have equal rights, regardless of the color of their skin.
Mary-Kate And Ashley - The Olsen twins have been TV stars since the 1980s. They also have books and videos.
Mashed Potatoes - Pile them up like a volcano and put butter in the middle.
Math - Add, subtract, multiply and divide- or use a calculator!
McDonald's - At a McDonald's restaurant in Mexico you can order a "hamburguesa."

Meatballs - Like meatloaf, only smaller.
Mexico - Country in North America, just south of the United States. Spanish is spoken in Mexico.
Midnight - Cinderella's curfew.

Milking A Cow - They have machines for that now.

Miniature Golf - You don't have to be miniature to play!

Monkeys - Monkeys are playful, intelligent mammals. They just monkey around!

Mosquito Bites - They just want your blood.

Motorcycles - Feel the wind in your hair! Or... feel the wind on your helmet!

Mountain Bikes - What goes up the mountain must come down.

Mr. Potato Head - Mr. Potato Head was introduced in 1952. By now, that would be Grandpa Potato Head.

Mud - Soft, wet, sticky, gooey, gritty, grimy dirt.
Muffins - "Do you know the Muffin Man?"

Mushrooms - It's a fungus.

Music - Pick your favorite: country, pop, rock, rap, hip hop, jazz, or classical.
Music Lessons - Practice, practice, practice.
Mustard - Made from seeds of the mustard plant. Spread on pretzels and hotdogs.
My Baby Blanket - I don't care if it does have holes!

My Best Friend - A person you can trust, no matter what.

My Family - Everyone's family is different.
My Friends - To have good friends, you have to be one.
My School - "Be true to your school."
My Stuffed Animals - The dog's name is Lucky, the bear is Teddy, and the duck is Quacker.

My Town - Large or small, it's home.

Nail Polish - Whatever color you want.

Neighbors - Turn down that music!

New York City - America's largest city, known for the Statue of Liberty.
Niagara Falls - The 2nd largest waterfall in the world, located on the United States border with Canada.
Noodles - Most noodles are made with flour, water and eggs, but some contain seaweed or spinach.
North Pole - The northern most point on the earth, but you're not going to find a pole there.
Octopus - A sea animal with a soft, round body and eight long arms, called tentacles.
On The Roof - Come down this instant!

Orange Juice - Sunshine in a glass!

Pacific Ocean - The Pacific is the largest, and deepest, ocean on Earth.

Painting A Fence - A good way to earn some money.
Pancakes - Some people call them flapjacks.
Panda Bears - In China they're called "Xiongmao" which means giant cat bear.
Paper Route - It's a job.

Parachutes - Put this on your back, jump out of the plane, and pull the cord. Ready?

Peaches - Fuzzy fruit.
Peacocks - The show-offs of the bird world.

Peanuts - Peanuts are really a seed, not a pea or a nut.
Pearl Earrings - A good gift for Mother's Day!

Pencils - Three-fourths of all pencils made in the United States are yellow.
Pennies - Heads or tails?
Peppers - Sweet and crunchy, or hot and spicy!
Perfume - What's that smell?

Pickles - Dill or sweet?

Pierced Ears - Mom, when can I get my ears pierced?
Pigs - Raised for their meat, including ham and bacon.
Pillow Fights - He started it!

Pillows - Pillow fight!
Pilots - "Welcome aboard. Today we'll be flying at 30,000 feet."

Pimples - Just in time for school pictures.

Piñatas - Papier-mâché animals filled with candy and whacked with a stick.

Pine Cones - Pine cones from Eastern White Pines can grow to eight inches in length.
Pineapples - Shaped like a football, tastes like a fruit.

Pinocchio - Pinocchio was a wooden puppet who came to life. His nose grew each time he told a lie.

Planting Flowers - "April showers bring May flowers."
Pluto - The ninth planet in the Solar System, or Mickey Mouse's dog.

Poison Ivy - Contact with the leaves of this plant can cause a serious, itchy rash.

Pokemon - A video game, card game and television show. I like Pikachu.

Potato Chips - Plain, sour cream and onion, ranch, or barbecue chips.
Power Drills - Carpenters use them, and so do dentists.

Power Rangers - A television series about a group of teens fighting evil space aliens.

Pretzels - Pretzels were first made in Germany. Available straight, twisted, or knotted.

Pumpkins - Bake it or carve it. Pumpkins are actually a fruit!
Puppets - Finger puppets, hand puppets and string puppets. Kermit the Frog is a rod puppet.
Radios - In the 1940s, before television, families gathered together to listen to the radio.
Race Car Drivers - Start your engines!

Rain - "Rain, rain, go away, come again another day."
Rain Forests - There is heavy rainfall throughout the year and lots of bugs.

Rainbows - There are seven colors in a rainbow: red, orange, yellow, green, blue, indigo, and violet.
Raisins - They're just dried grapes.

Raking Leaves - Maybe they'll all just blow away!

Ramona - Main character in Beverly Cleary's "Ramona the Pest" and other books in the series.
Rap Music - Rap is a popular form of music with a strong beat and rhyming lyrics.

Red Roses - Red roses are a symbol of love.
Restaurants - It's good to try new things!

Rice - A grain grown for food. Rice can be white, brown or black.
Riding A Scooter - Where are the brakes?

Robots - They should make a robot that does homework.
Rock Candy - Large, clear sugar crystals- rock hard!

Rock Concerts - Not on a school night!

Rock Stars - Even the guys wear make-up!

Rocking Chairs - Rock-a-bye baby.
Rocks - Rock collectors are sometimes called rockhounds.
Roller Coaster - Roller coaster cars can go more than 70 miles per hour.
Rollerblading - Faster than walking.
Roosters - The barnyard alarm clock.

Running In A Race - A marathon is a 26 mile race.
Sailors - Get seasick? Don't become a sailor.

Salads - Fruit salads, pasta salads, potato salads, and lettuce salads.
Salt - In ancient times salt was valuable. In fact, it was used as money.
Sand - The desert, the dunes, the beach, and in your shoes.
Sand Castles - No dogs allowed.

School Lunch - Hot lunch, cold lunch, or bring your own lunch.
School Pictures - How do I look?

Science Experiments - Your science experiment? I thought it was dinner!

Science Tests - Multiple choice or essay.

Scientists - Scientists study astronomy, biology, chemistry, geology, and other stuff.
Scooby-Doo - TV cartoon dog who helps solve crimes. "Scooby-Doo, where are you?"
Sharp Knives - Found in kitchen drawers, tackle boxes and butcher shops.

Ships - Battleships, cruise ships, freighters, and oil tankers.
Shoplifting - It's stealing and it's against the law.

Shopping - It's shopping-whether you buy something or not.

Shrimp - Tiny to jumbo- they come in all sizes.

Sisters - Sister, sister!
Skateboards - "Skateboarding is not a crime!"
Skeletons - There are 206 bones in the human body. Count them!

Skinned Knees - Ouch! Ouch! OUCH!
Sleepovers - If you don't sleep, is it still a sleepover?
Sneezing - Ah-ah-ah-choo!
Snow Cones - You don't have to wait for snow.
Snowboarding - Snowboarding was declared an official Olympic sport in 1994.

Snowflakes - They say each one is different, but who would know?

Soldiers - Men and women who serve in the military.
Sparklers - They're still fireworks!

Spelling Bees - Spelling contests. They have nothing to do with bees.
Spider-Man - He's a student. He's a superhuman crime fighter. He's Spider-Man!

Spinach - Raw or cooked- it's full of vitamins.

Square Dancing - "Swing your partner!"

Starfish - A star-shaped sea creature with five or more arms. If one breaks off, another arm will grow.
Stomach Ache - You ate the whole thing?

Strawberries - Strawberry shortcake!

Substitute Teachers - "Ms. Jones lets us eat candy and get drinks whenever we want!"

Sugar - "Sugar is sweet and so are you."

Sunburns - Next time, use some sunscreen.
Sunken Ships - Early ships would often sink in battles or bad weather.

Superman - Faster than a speeding bullet!
Supermarkets - It's a meat market, bakery, flower shop, and toy store- all in one!

Surfing - The waves or the web.

Surprise Parties - Everybody hide!

Swamps - Wet, spongy land, often covered with water. A great place to live- if you're a mosquito.

Swans - The "Ugly Duckling" was actually a baby swan.

Swordfighting - As a sport, sword fighting is called "Fencing." It is an Olympic event.

Tacos - Meat, cheese, and hot sauce all wrapped up in a tortilla.

Taking A Shower - That'll wake you up.

Tattoos - Tattoos can be painful. Temporary tatoos don't hurt at all.

Teachers - "What do you mean, you didn't know there was a test today?"
Teenagers - Ages thirteen to nineteen.
Teeth - Adults have 32 permanent teeth.
Television - If you get your homework done...

Telling Scary Stories - "It was a dark and stormy night . . ."
Tents - A pup tent will hold one or two people, but a circus tent can hold hundreds.
Texas - Famous for oil wells, barbecues, and cowboys. The capital of Texas is Austin.

Thanksgiving Day - A harvest festival celebrated on the fourth Thursday in November in the U.S.
The Baby-Sitters Club - This series of books, written by Ann M. Martin, is a favorite of girls, world-wide.

The Beach - Sun, surf, and sand.
The Chicken Dance - You put your hands in your armpits...

The Earth - Third planet from the sun. Home to Earthlings.
The Last Day Of School - Almost as good as a birthday!
The Library - Books, magazines, newspapers, tapes, and computers. SHHHH!
The Lunchroom - What's for lunch?

The Mall - Great place to shop and meet friends.
The Moon - There's a new moon and there's a full moon, and sometimes there's a man in the moon.
The Ocean - Almost three-fourths of the Earth's surface is covered by the four oceans.
The Police - They keep order and arrest those who break the law.
The President - A U.S. president must be at least 35 years old and a natural born citizen.
The Statue Of Liberty - "Lady Liberty" was a gift to the U.S. from the people of France.

Thunder - A booming sound wave created by the heat from lightning.
Tightrope Walking - If you get really good, you can join the circus.

Toasted Marshmallows - Add chocolate and graham crackers and you'll wish you had s'more.
Toenails - A horse's foot is actually a toe. The hoof is a toenail.
Tomato Soup - Good with cheese sandwiches.
Tooth Fairy - Who knows what they do with all those baby teeth.
Toothpaste - Brush and spit!

Toy Poodles - They are less than ten inches tall, from their shoulders to the floor.

Training Wheels - It's a four-wheeler.

Truck Drivers - See the country- or at least see the highways.

Trees - Some redwood trees in California are over 300 feet tall and thousands of years old.
Tulips - A sign of spring!

Turkeys - Large birds raised for food. Popular at Thanksgiving.
Umbrellas - "Rain, rain, go away, come again another day."

Underwear - Keep it clean!

Unicorns - Imaginary horse-like animals. A long, pointed horn grown from the middle of their foreheads.
United States - It's about 2,500 miles, from sea to shining sea.

Vacuum Cleaners - It's a dirty job!

Valentine's Day - Will you be my Valentine?
Vanilla Pudding - Now available frozen, on a stick.
Video Games - I told you ten hours a day was too much!
Volleyball - Spike it!
Waffles - Like pancakes with built-in syrup cups.

Walking The Dog - It's good exercise.
Warts - Small, hard lumps that grow on the skin. Anyone can get them, not just witches.
Washington, DC - City named after George Washington, it's the capital of the United States.

Watching Cartoons - Not just for kids.

Watching Football - Isn't it more fun to PLAY football?
Water - Pure water has no color, taste or smell. So, if it smells funny, don't drink it.
Water Baloons - I'll fill them and you tie them.

White Bread - Plain and simple.

Water Guns - Don't take them to school!
Water Skiing - Try it on one ski.
Waterparks - Wet and wild!
Whipped Cream - Sweet and fluffy!
Winning A Trophy - Congratulations!
Winter - The coldest season of the year.
Wishbone - Star of television and over 50 books. Wishbone is a Jack Russell terrier.
Woodpeckers - They find insects to eat by pecking holes in wood with their beaks.

Woolly Mammoth - These large hairy elephants are now extinct.

Wrestling - A sport where two people try to force each other to the ground. No hitting allowed.
Writing A Letter - Dear Mom, How are you? I am fine.
Zebras - The stripes on each zebra are in a slightly different pattern.

Zippers - Faster than buttons.




If you have e-mail regarding this Apples To Apples page, e-mail either here to return to the Apples To Apples Junior 9+ (Second Edition) page.
Click here to return to the Apples To Apples main page.