Apples To Apples - Party Expansion 1 - Red Apples (2004 Printing)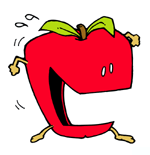 A Cabin In The Woods - Henry David Thoreau went to Walden Pond for two years. All we're asking for is one lousy weekend!
A Can Of Worms - Now you've opened it.
A Few Good Men - Is that too much to ask?
A Fool & His Money - Are soon parted... especially on Wall Street.
A French Maid - Ooh, la, la!
A Hole In One - Par for the course?
A Little White Lie - If you can't say anything nice . . .
A Million Dollars - If I had a million dollars. . .
A Mummy - "Walk like an Egyptian." - The Bangles
A Ringing In My Ears - Answer that, would'ya?
A Spare Tire - The good news is: we have a spare tire . . .
Abbot & Costello - Comedy team who had everyone guessing - "Who's on first?"
Adam & Eve - A relationship of Biblical proportions.
Alan Greenspan - 1926-, chairman of the U.S. Federal Reserve Board.
AM & FM - Making waves in radio.
Amsterdam - The capital of the Netherlands, and one of Europe's most beautiful and notorious cities.
Ancient Rome - In ancient times, all roads led to Rome, and the traffic has only gotten worse.
Anna & The King - The 1999 film romanticizing the story of Anna Leonowens and King Mongkut of Siam.
Anna Kournikova - 1981-, Russian-born star of the tennis court and internet.
Anthrax - A potentially deadly infectious disease caused by spore bacteria. Anthrax has been developed as a biological weapon.
Antiques Roadshow - PBS television program where folks bring oddities for appraisal. One person's trash is another's treasure.
Antony & Cleopatra - Roman general and Egyptian queen. A love affair that wouldn't die. Oh, wait, it did.
Apples & Oranges - Don't even TRY to compare them.
Aristotle - 384-322 B.C., ancient Greek philosopher. His writings formed the foundation for much of today's philosophical and political thought.
Arm & A Leg - Sure, they were free, but just try replacing them.
Armadillo - Burrowing mammal with armor-like bony plat covering. Roadkill extraordinaire.
Arnold Schwarzenegger - 1947-, Austrian born body-builder turned actor. "My body is like breakfast, lunch, and dinner. I don't thinkabout it, I just have it."
Aroma Therapy - Alternative medicine. Something's smelly about it.
Arsenic & Old Lace - The hilarious dark comedy written by Joseph Kesselring, or the 1944 film adaptation by Frank Capra.
Assault & Battery - That would be a single "A" battery.
Bagels And Lox - A perfect snack for salmon-chanted evening ...
Ball & Chain - Don't let it get you down.
Ballroom Dancing - Fox-trots, tangos, cha-chas, and more! Are you ready to rumba?
Barbie & Ken - Ah, to be blond and plastic...
Baseball - Its one, two, three strikes you're out . . .
Batman & Robin - Superheroes or vigilantes, you make the call.
Bats & Balls - At least they don't go on strike.
BB Guns - You'll shoot your eye out!"
Beanbag Chairs - For beanbag butts . . .
Beauty & The Beast - A French fairy tale, animated by Disney in 1991.
Beavis & Butt-Head - He said "butt." Huh-huh. Huh-huh.
Bed & Breakfast - Not the same as breakfast in bed.
Beer & Pretzels - "These pretzels are making me thirsty" - Cosmo Kramer, Seinfeld
Being & Nothingness - Jean Paul Satre's 1943 work based on the distinction between things that exist by themselves and those that exist for themselves.
Bells & Whistles - It's got everything!
Bert & Ernie - Sesame Street's muppet buddies.
Big Bird - Beloved Sesame Street character, or the not-necessarily-beloved U.S. spy satellite.
Bill & Ted - Characters in Keanu Reeves' excellent time-travel adventure film. Yeah, dude.
Billy Crystal - 1947-, American comedian, actor and director. He looks maaaaah-velous.
Black Cats - It's bad luck if they cross your path. You might step in a hairball!
Black Licorice - Alexander the Great and Julius Caesar both endorsed the beneficial properties of Licorice. No word on black jelly beans . . .
Black Lingerie - Victoria's REAL secret: selling skimpy negligees at hefty price . . .
Blackouts - They can occur at any
Blood & Tears - Don't forget the sweat.
Blue Velvet - An elegant, textured fabric, Bobby Vinton love song, or David Lynch's bizarre 1986 film about the dark side of small-town America.
Boardwalk & Park Place - Top of the line in the real estate game.
Body & Soul - Just tryin' to keep it all together.
Body Snatchers - We'd be worried, but nobody would want to snatch OUR bodies . . .
Bodybuilders - If you build it they will come.
Bonnie & Clyde - American outlaws of the 1920s, played by Faye Dunaway and Warren Beatty in the 1967 film.
Bora Bora - Volcanic island in the Pacific. Good oranges and vanilla.
Bow & Arrows - More effective than sticks and stones.
Bowling - Three strikes and you're in.
Bread & Water - Make that a baguette and a bottle of Perrier.
Breaking & Entering - "Honest, Officer, I lost my keys."
Bride & Groom - "With this ring..."
Brooks & Dunn - Extremely successful country & honky-tonk music duo. "If they don't dance, you're dead." - Ronnie Dunn
Brothers & Sisters - "You can pick your friends, but..."
Bulls & Bears - On or off Wall Street.
Bumper Cars - Much like rush hour in Chicago.
Burger & Fries - You want flies with that?"
Buttons & Bows - Cute as a button, or a bow.
Calvin & Hobbs - Bill Waterson's late, great comic strip featuring a little boy and his tiger.
Camelot - "On second though, let's not go to Camelot. 'Tis a silly place." - King Arthur, Monty Python and the Holy Grail
Carlos Santana - 1947-, guitar legend and member of the Rock and Roll Hall of Fame. Truly Supernatural.
Carrot & A Stick - The ultimate motivator... for a donkey.
Cat & Mouse - It's just a game.
Catherine Zeta-Jones - 1969-, Welsh born actor, famous for her stunning good looks, as seen in The Mask Of Zorro, Entrapment and Traffic.
Cats & Dogs - Is it raining?
Catsup & Mustard - The salsa revolution brought down their condiment empire.
Cauliflower - Goes down easy when it's cheesy.
Caviar - It's not JUST fish eggs. It's . . . fish eggs . . . that cost a fortune . . .
Chain Link Fences - Good fences make good neighbors.
Charles & Diana - A right royal marriage.
Chat Rooms - Electronic speakeasies for the information age.
Chips & Dip - No double dipping!
Chips & Salsa - Nacho average snack!
Chutes & Ladders - A game of ups and downs.
Circus Peanuts - Chewy, oragne marshmallow things shaped like peanuts. Seldom found at the circus.
Cleveland - "Cleveland rocks! Cleveland rocks!" - The Drew Carey Show
Cloned Sheep - Dolly good show!
Cockles & Mussels - "Alive--alive-o!" I think I just lost my appetite.
Colin Powell - 1937-, U.S. Secretary of State and Chairman of the Join Chiefs of Staff during the Gulf War. We'd give him four stars.
Comic Books - THIS looks like a job for . . . somebody who draws Superman!
Convenience Stores - "Thank you come again."
Cops & Robbers - When fighting crime was just child's play.
Corn Fields - Knee high by the Fourth of July.
Corned Beef & Cabbage - It's not chopped liver.
Corrugated Cardboard - When you want to think out of the box . . .
Cottage Cheese - If it's so popular, where are all the Cottage Cheeseheads?
Coughing & Sneezing - And no cure in sight.
Cowboys - Head 'em up and move 'em out!
Cowboys & Indians - How the west was won... and lost.
Crabs - As crustaceans, crabs are related to lobster and shrimp. What do they all have in common? They all go well with butter.
Crash & Burn - Try, try again.
Cream & Sugar - Do you want some coffee with that?
Crime & Punishment - Fyodor Dostoevsky's 1917 classic novel following the tormented life of the murderer Rodion Romanovich Roskolnikov.
Cup & Saucer - Tea Time!
Curds & Whey - What? It's just cottage cheese?
Currier & Ives - The lithography shop operated from 1834 to 1907 and produced over 7500 titles, all of which could have been called "Life In America."
Cut & Curl - You'll look mah-velous!
D-Day, 1944 - On June 6, 1944 the Allied forces invaded France, employing over 10,000 airplanes, 5,000 ships, and 250,000 servicemen.
Dallas & Fort Worth - The heart & soul of Texas.
David & Goliath - Bible story featuring the future king David and the Philistine giant Goliath. The bigger they come, the harder they fall.
Day Care Centers - Preschool for preschool.
Death & Dying - The only way out.
Death & Taxes - The two certainties in life.
Dinner & A Movie - And a mortgage to pay for it.
Doctors & Dentists - For a long life and healthy teeth.
Dodo Birds - A large, flightless bird of the island of Mauritius. Discovered by Europeans in 1598, extinct by 1681.
Dog Days - 101 in the shade.
Doing The Hokey-Pokey - That's what it's all about.
Dollars & Cents - "If it don't make dollars, it don't make sense." - DJ Quik
Double Thick Malts - For a double thick ice cream headache.
Dr. Evil - Arch-nemesis of Austin Powers. Riiiiiiight.
Dr. Jekyll & Mr. Hyde - Robert Louis Stevenson's 1887 novel revealing the hypocrisy and innate evilness in society. The idea came to him in a dream - a bad dream.
Dr. Laura - 1947-, American conservative talk show host and promoter of family values. HER family values, that is . . .
Drew Barrymore - 1975-, heir to the Barrymore acting dynasty. Drew starred in ET, The Wedding Singer, Charlie's Angels, and countless tabloid stories.
Drew Carey - 1958-, American comedian and television star. Whose line is it anyway? His.
Drinking & Driving - Friends don't let friends drive drunk.
Drunk Drivers - Number one highway safety problem.
Dumb Blonde Jokes - Are they just naturally funny?
Dungeons & Dragons - Popular role-playing game featuring swords, sorcery and wizards. Repeat after me: it's a game... it's only a game...
Dustin Hoffman - 1937-, highly regarded actor of The Graduate, Midnight Cowboy, and Rainman. He's an excellent driver!
Ebony & Ivory - "Ebony and ivory live together in perfect harmony." Paul McCartney
Eggplant - Without it there would be no Eggplant Parmesan.
Emergency Rooms - Brings new meaning to he word "heartthrob."
Exterminators - Bugs, rats and vermin. It's time for chemical warfare.
Fairies - Tiny, mischievous, mythical beings with magic powers. They live in Fairyland. Really.
Faith Hill - 1967-, American crossover country music artist. You just gotta have Faith.
Fame & Fortune - Everybody may have 15 minutes of fame, but fortune is another thing altogether.
Fat - I can't believe I ate the whooooooole thing.
Fear & Loathing - In Las Vegas, or anywhere else.
Ferdinand & Isabella - Late 15th century king and queen of Spain. They backed Christopher Columbus and benefitted royally.
Fertilizer - Viagra for the garden.
Field & Stream - The hunter's best friend.
Fish & Chips - Just wrap it in any old newspaper.
Flannel Shirts - Pick your plaid.
Flash Floods - Too late for sandbags!
Florence Nightengale - 1820-1910, English nurse and health-care reformer. We've been singing her praises for years.
Flowers & Candy - When "I'm sorry" is not enough.
Folk Music - When you're just fiddling around . . .
Food & Shelter - Gotta have it.
Food Poisoning - This chicken tastes kinda funny . . .
Foot & Mouth - An infectious disease of animals with hooves. Not the same as foot-IN-mouth disease which affects everybody at one time or another.
Forever & Ever - "Oh, baby, I'm gonna to love you forever/ Forever and ever amen." Randy Travis
Fortune Cookies - "You will soon eat a flat, dry, tasteless cookie . . ."
Freaks & Geeks - The 1999 television show, or those outside the social norm.
Fred & Ginger - Fred Astair & Ginger Rogers - tap dancing their way into the hearts of millions.
Fred & Wilma - Meet the Flintstones. "Yabba-dabba-doooo!"
Fred Flintstone - Yaba-daba-dooooo!
Friends & Family - There when you need them.
Frisbees - The frisbee was introduced to the market in 1948. Take one for a spin.
Frog & Toad - Characters in a series of children's books by Arnold Lobel, or any of the millions of frogs and toads who choose not to wear clothes.
Gardening - Get in touch with your roots.
George & Jane, His Wife - The Jetsons television show first aired in 1962. In spite of our best efforts, cars still can't fly.
Gettysburg, 1863 - The turning point of the American Civil War, a bit more than four score and seven years ago.
Ghosts & Goblins - "I see dead people." - Cole Sear, The Sixth Sense
Gilligan's Island - Who would have thought that you could make a radio out of coconuts.
Ginger & Mary Ann - "Here on Gilligan's Isle."
Giraffes - Giraffes can grow to 18 feet tall and have been known to kill a lion with a single kick. Not just another pretty face.
Go Karts - Go kart, go!
Going On A Cruise - Iceberg, dead ahead!
Gold & Silver - There's a good reason Fort Knox is full of golg and not silver.
Good & Plenty - The licorice candy was first produced in 1893, making it the oldest branded candy in the United States.
Goose & The Gander - If it's good for the goose...
Gourmet Coffee Shops - I'll have a tall, double cappuccino, wet, with vanilla, half decaf, - to walk.
Grease - Pretty slick!
Grease & Grime - What would Martha do?
Haiku - Traditional form of Japanese poetry consisting of three lines, usually containing a reference to nature.
Hammer & Nails - "If I had a hammer..." - Peter, Paul and Mary
Hammer & Sickle - An emblem of the Communist movement, now retired... as is the Soviet Union.
Hang Gliding - Trust us. It's a breeze.
Hansel & Gretel - One of Grimm's grimmer fairy tales.
Hard Boiled Eggs - Well, I'll be deviled . . .
Harrison Ford - 1942-, Iconic American actor. "Hokey religions and ancient weapons are no match for a blaster at your side, kid."
Harry Potter - The hero in a series of books by J.K. Rowling featuring muggles and wizards.
Harvard & Yale - "What? Like it's hard?" - Reese Witherspoon Legally Blond
Hawks & Doves - The big birds of war and peace.
Head Lice - Head lice suck blood from the scalp and spread like crazy. A REAL parasite.
Heart & Soul - They're yours. All yours!
Heaven & Hell - The ups and down of the afterlife.
Herb Gardens - Rosemary, Basil, Chive . . . is it a herb garden or the cast from a British drama?
Here & There - And everywhere.
Hills & Valleys - Nature's little ups and down.
Hip Hop - Musical and cultural movement that gained popularity in the 1980s. Yo, yo, yo.
Hit & Run - An automobile crash, or a baseball play.
Hollywood & Vine - The Los Angeles street corner where dreams come true.
Hook & Ladder Trucks - One big reason to become a firefighter.
Hootie & The Blowfish - One of the most commercially successful pop bands to emerge in the 1990s. I go blind when I think about them.
Horse & Cart - Get the order right!
Hospital Gowns - Open all hours.
Hotels & Motels - Get a room!
House & Home - And money pit.
Howard Stern - 1954-, American shock disc jockey. His autobiography is titled Private Parts. If only they WERE private.
Husbands & Wives - For richer... hopefully.
Ice & Snow - "We come from the land of the ice and snow/ From the midnight sun where the hot springs blow." - Led Zeppelin
In The Doghouse - All told, I'd rather be in the cathouse.
Irrational Fears - What's that sound?
Jenna & Barbara - President Bush's daughters, the "First Twins."
John Wayne - 1907-1979, legendary American actor, "The Duke" starred in such classics as Stagecoach, The Sands of Iwo Jima and True Grit.
Johnny Depp - 1963-, American actor and heart-throb. From Cry-Baby to Pirates of the Caribbean - he's as smooth as Chocolat.
Jonah & The Whale - The greatest fish story ever told, in the Bible, that is.
Junkyard Dogs - Not as mean as bad, bad Leroy Brown.
Jurassic Park - 1993 film based on Michael Chrichton's book about dinosaurs brought back to life, with Oscar-winning visual effects.
King Tut - Boy king who ruled Egypt from 1333 to 1323 B.C., known for the great wealth of objects found in his tomb. He took it with him.
Kiss & Tell - Best to keep your mouth shut.
Knife & Fork - Knife on the right, fork on the left.
Knitting Needles - Knit one, pearl two . . .
Lady & The Tramp - The 1955 Disney animated film featuring dogs, love and spaghetti.
Lance Armstrong - 1971-, American cyclist, cancer survivor and winner of the Tour De France - brought new meaning to the phrase "Going Postal."
Lassie - A famous collie, Lassie starred in her own TV show. What's that you say Lassie? Little Timmy's fallen down the well?
Last Night - About last night . . .
Last Will & Testament - It may be your only chance to get the last work on anything.
Laurel & Hardy - Classic fat-skinny comedy duo of the 1920s.
Laverne & Shirley - The 1970s sitcom phenomenon that defined Milwaukee for the world. And Milwaukee's still trying to live it down!
Law & Order - The television show, or the concept.
Leather & Lace - It's a texture thing.
Lemon & Lime - Pucker up.
Lemon Meringue Pie - Tart, sweet and smooth.
Lethal Injection - It's a killer.
Lewis & Clark - The early 1800s expedition covered over 8000 miles and confirmed that the Louisiana Purchase was a very good deal.
Liberty & Justice - For all.
Linguine With Clam Sauce - Pass the parmesan . . .
Lions & Tigers - And bears...
Liposuction - Fatty tissue? That sucks . . .
Liver And Onions - An acquired taste.
Loch Ness Monster - "Nessie," the legendary beast of Loch Ness, Scotland. It must be real, they have pictures.
Lock & Key - Quit picking on me!
Lock & Load - It's off to war we go.
Looney Tunes - Warner Brothers cartoons featuring Porky Pig and Bugs Bunny.
Love & Marriage - First comes love, then comes marriage...
Lox & Bagels - A deli favorite. Pass the cream cheese!
Lucy & Desi - Thirty years later and we still love Lucy.
M & M's - Candy coated chocolates first sold in 1941. Now available in purple.
Macaroni & Cheese - It's the easiest.
Mae West - 1892-1980, American stage and film comedian. "Too much of a good thing can be wonderful."
Maggots - I though it was rice.
Maple Syrup - Made from the sweet sap of the maple tree or black maple tree, produced only in North America - a "must have" for pancakes.
Marlon Brando - 1924-2004, legendary American actor. Starred in A Streetcar Named Desire and won awards for On the Waterfront and The Godfather.
Matzo Balls - Soul for the chicken soup.
Maui - Hawaiian volcanic island, 728 square feet in area. Heaven on Earth.
Maximum Security Prison - When a regular strength prison just won't do.
Me & My Shadow - "Strolling down the avenue..."
Meat & Potatoes - A simpler meal for a simpler time.
Meat Markets - A cut above the rest.
Mensa High IQ Society - Members have IQ's in the top 2% of the population.
Mickey & Minnie - Mouse, that is. Disney's dynamic duo.
Migraine Headaches - Not just any headache.
Milk & Cookies - The ultimate after-school special.
Milwaukee - They don't call their baseball team the "Brewers" for nuthin'.
Minneapolis & St. Paul - The "Twin Cities" are Minnesota's largest population center. They may be twins but you can tell the difference.
Mom & Apple Pie - Worth fighting for.
Mom & Pop - Hey! Maybe they should open a store!
Mom's Cooking - Just like Mom USED to make.
Monitor & The Merrimac - American Civil War ironclads, first fought each other in 1862.
Monkeys - Monkeys see . . .
Moon & The Stars - You want what?
Mount Vesuvius - Italian volcano that rises above the Bay of Naples and blew its top in 79 A.D., much to Pompeii's regret.
Mutual Funds - Mutually benefits you and your broker.
My Father - "Go ask your mother."
My Life - "There are places I'll remember/ All my life, though some have changed." The Beatles
My Memories - Thanks for the memories . . .
My Mother - "Go ask your father."
NASA - National Aeronautics and Space Administration, established in 1958 in part in response to the U.S.S.R. launching Sputnik.
Nashville - Capital of Tennessee and capital of country music - also known as Nash Vegas.
New Yorkers - Brash, brawny and full of bravado.
Nirvana - A state of supreme spiritual bliss and liberation. And then there's the band . . .
North & South Dakota - It's all north.
Nosebleeds - Keep your chin up.
*NSYNC - Popular boy band known for their dance routines and harmonies. Bye, Bye, Bye our albums!
Nuts & Bolts - A good way to stay connected.
Odds & Ends - It's in the junk drawer.
Oil & Filter - Let me top that off for you.
Oil & Vinegar - They don't mix, but we keep trying.
Old Age - It looks good when you consider the alternative.
Ordinary People - Nothing special.
Pail & Shovel - I can dig it.
Panning For Gold - The dot-coms of the 1840s . . .
Paul McCartney & Wings - Life after The Beatles.
Peace & Love - Flower Power!
Peace & Quiet - Truly appreciated during parenthood.
Peaches & Cream - A great complexion and a great dessert.
Peanut Butter & Jelly - On white bread; cut off the crusts.
Peanuts & Popcorn - It's a crackerjack combination!
Pebbles & Bamm-Bamm - The cartoon kids from The Flintstones. BAM-BAM, BAM-BAM, BAM-BAM.
Pencil & Paper - We're drawn to them!
Penn & Teller - Magicians, illusionists, entertainers, and comedians.
Pez Dispensers - Collectable candy dispensers first being sold in 1952. Believe it or not, there has never been an Elvis Pez dispenser.
Phone & Fax - Soon you won't need to leave the house at all!
Pineapple - Tropical fruit, or the less lush hand grenade.
Pink Flamingos - Gracing America's lawns for more than 40 years - sold only in pairs.
Pins & Needles - It's all sewed up!
Playing Golf - For stress reduction. Now, get that head down and straighten your arm!
Pole Vaulting - The sport where you can reach new heights.
Pomp & Circumstance - La-de-da.
Porcupines - Quill-bearing rodents that can leave you in a prickly situation.
Pork & Beans - Rustle us up some grub, Cookie.
Power & Glory - The spoils of war.
President Bush - 1946-, 43rd president of the United States.
Pride & Prejudice - Jane Austin's 1813 classic novel expounding on the consequences of pride.
Queen Elizabeth II - 1926-, Queen of the United Kingdom and Northern Ireland since 1952. Shame about the kids, though . . .
R & B - Rhythm and Blues.
R & D - Research and Development.
R & R - Rest and relaxation, recreation or could be recuperation.
Raves - Neo-psychedelic all-night dance parties centered around acid, house, and techno music. All the rave.
Reading & Writing - Old-fashioned skill, amazingly still useful today.
Regis & ... - Kathy Lee or Kelly - your choice.
Rice & Beans - The south-of-the-border meat and potatoes.
Rice Krispies Treats - How could you go wrong with Rice Krispies, marshmallows, and butter.
Richard Simmons - 1948-, American fitness guru famous for his extroverted style, short shorts and Sweatin' to the Oldies.
Rio De Janeiro - Vibrant Brazilian city and home to Carnival. Blame it on Rio!
Road Rage - Ten years ago we complained about potholes. NOW we're dodging pot-shots.
Robin Hood - Legendary British outlaw who stole from the rich and gave to the poor, known for his courage, skill, and Merry Men.
Rock & Roll - It'll never die. Unlike Rock and Roll musicians.
Rod & Reel - He took it hook, line, and sinker.
Rogers & Hammerstein - Kings of the Broadway Musical: The Sound of Music, The King and I, South Pacific, and many, many more.
Rope Burns - You were playing WHAT?
Rusty Nails - Good name for a country western singer.
Salt 'N Pepa - Extremely successful rap group formed in the 1980s, known for their portrayals of the woman's perspective on relationships.
Salt & Pepper - "Pump it up a notch! BAM!" - Emeril Lagasse.
Sand & Surf - Life's a beach!
Sandra Bullock - 1964-, American actor who starred in Speed, Miss Congeniality, and While You Were Sleeping. The classic girl-next-door.
Scented Candles - You didn't have to BAKE an apple pie - just light a candle.
Shake & Bake - ... and eat.
Shave & A Haircut - Two bits.
Shipwrecks - "The lake it is said never gives up her dead . . ." - The Wreck of the Edmund Fitzgerald"
Sigmund Freud - 1856-1939, Viennese psychologist and the originator of psychoanalysis and the Freudian slip.
Sin & Redemption - Everybody deserves a second chance.
Sitcoms - If they're so funny, WHY THE LAUGH TRACK?
Skin & Bones - What would you be without them?
Slash & Burn - And there goes another rain forest...
Slasher Films - A real nightmare.
Slice & Dice - A sharp knife is a safe knife.
Slip & Fall - Watch out for ... too late!
Slobodan Milosevic - 1941-, former leader of Serbia, also known as "the Butcher of the Balkans."
Smith & Wesson - Firearms when ready!
Smoke & Mirrors - That's how we do it!
Snips & Snails - And puppy dog tails.
Snoopy & The Red Barron - Characters in the Peanuts comic strip. Talk about a dog fight!
Space & Time - Infinite.
Spiders & Snakes - Creepy! Legs or no legs.
Spit & Polish - We could do with less spit and more polish.
Stalactites & Stalagmites - The ups and downs of spelunking.
Stamp Collecting - If you can't lick 'em, collect 'em.
Stanley & Livingston - Britons who explored Africa, I presume.
Stars & Stripes - Three cheers for the red, white, and blue!
Sticks & Stones - When words are not enough.
Stocks & Bonds - At least they're worth the paper they're printed on... We hope.
Stop Signs - Gee, Officer, I THOUGHT it was green!
Strained Peas - The strain comes when you have to eat them.
Street Mimes - A mime is a terrible thing to waste. On second thought . . .
Stretch Limos - Stretch your legs, stretch your wallet.
Strip Malls - Almost as attractive as stip mines.
Sugar & Spice - And everything nice.
Suit & Tie - It's business as usual!
Sumo Wrestlers - Wrestlers usually weigh 300-400 pounds and win this Japanese form of wrestling by forcing an opponent out of the ring.
Surf & Turf - Steak and lobster. No need to choose.
Surprise Parties - SURPRISE! Oh. He had a heart condition . . . that WAS a surprise . . .
Tarred & Feathered - It's a sticky situation.
Tarzan & Jane - He went ape over her.
Tattoo Parlors - "With nothing to show but this brand new tattoo . . . how I got it here I haven't a clue." - Jimmy Buffett
Tea & Crumpets - Upper-crust toast & jelly.
The 1990s - Dot-coms, Clinton and designer coffee. The good old days.
The Atlantic & Pacific - Oceans apart.
The Big Dipper - Group of stars in the Northern sky that form part of the constellation Ursa Major.
The Birds & The Bees - We'll tell you about them sometime.
The Chicken & The Egg - Which came first? The egg. Look it up!
The Dalai Lama - Title of the leader of Tibetan Buddhism, in exile since 1959. Hello, Dalai!
The Dixie Chicks - Female country and western band with pop leanings. Winners of multiple Country Music Association awards. Goodbye, Earl!
The Graveyard Shift - It WILL be the death of me . . .
The Great Barrier Reef - Coral reefs, shoals and islets off the northern coast of Australia. Scuba heaven.
The Great Wall Of China - A 1500 mile long wall across northern China. Built for fortification but better for tourism.
The Ice Age - Polarity analysis of deep-sea sediment suggests the Pleistocene age began more than 1.8 million years ago. Bla-bla-bla.
The Judge - Smile when you play this card.
The Mounties - The Royal Canadian Mounted Police. They always get their man.
The North Pole - Things can only go south from here . . .
The Princess & The Pea - The true test of a princess, fairy tale or otherwise.
The Scarlet Letter - Hawthorne's 1845 novel about Puritan New England, moral conflicts, guilt, and down-right nastiness. (It was an "A".)
The Symphony - It's music to our ears.
The Three Stooges - Nyuk, nyuk, nyuk. A wiseguy, eh?
The U.S. Constitution - We the people . . .
The Young & The Restless - Launched in 1973, this soap opera isn't young, but it's still restless.
Thelma & Louise - 1991 Ridley Scott film starring Susan Sarandon and Geena Davis as two over-the-edge women.
Three Men & A Baby - The 1987 comedy film. You do the math.
Thunder & Lightning - Nature's fireworks.
Timbuktu - City of 20,000 located in the West African nation of Mali. The official name if Tombouctou. From here to Timbuktu.
Time Travel - "What do you mean I missed my connection in the 14th Century?"
Timothy McVey - 1961-2001, the Oklahoma City Bomber.
Tom & Jerry - A good chaser.
Tony Blair - 1951-, British Prime Minister, "We will not rest until this evil is driven from our world." Sept. 11, 2001.
Track & Field - It's eventful.
Tractors - "She thinks My Tractor's Sexy." - Kenny Chesney
Treasure Hunting - Gold Doubloons! Gold Doubloons! AT A YARD SALE?
Trekkies - Beam them up, PLEASE!
Trinidad & Tobago - Tiny, lush Caribbean republic. One of the most prosperous countries in the area due to petroleum and natural gas production.
Truth & Justice - Sounds good on paper.
Turkey & Stuffing - Get stuffed.
Tyra Banks - 1973-, American model, starred in Coyote Ugly. Probably the only time you'll see the words "ugly" and "Tyra Banks" in the same sentence.
Umbrella Drinks - Extra fruit, please!
Urban Sprawl - Oh give me a home where the edge of town roams . . .
Velcro - A hook-and-loop fastener that can really grab you.
Venus & Mars - As different as men & women.
Viagra - It works for Bob Dole and 16 million others, it'll work for you.
Volcanoes - Vents in the crust of the earth from which steam, debris and molten rock spew, with explosive results.
War & Peace - Tolstoy's 1805 epic novel of the Napoleonic wars, a celebration of Russian spirit.
Washer & Dryer - Take them out for a spin.
Waxing The Floor - It's a pain in the neck, and back, and knees . . .
Weed & Feed - Make sure the grass is greener on YOUR side of the fence.
Weird Al Yankovic - 1959-, American musical humorist, born Alfred Matthew Yankovic, which is nothing to laugh about . . .
Whips & Chains - Popular before prison reform - the good old days.
White Collar Crime - Three strikes and you're OUT . . . to a cozy little low-level detention facility with a pool and tennis court.
Will & Grace - Popular sitcom debuted in 1998. Not your average next door neighbors.
Working Out - No pain, no gain.
Xena, Warrior Princess - Popular TV fantasy, adventure program. Xena, played by Lucy Lawless, and her friend Gabrielle, seek adventure and fight evil.
Yin & Yang - Two elements that oppose each other and give life balance. If you're lucky.
Zippers - Zip it, zip it good.
Zombies - Undead ghouls that feed off of brains. So WE'RE safe . . .



If you have e-mail regarding this Apples To Apples page, e-mail either here to return to the Apples To Apples Party Expansion 1 page.
Click here to return to the Apples To Apples main page.