Apples To Apples - Rules Variations
*****Apple Turnovers*****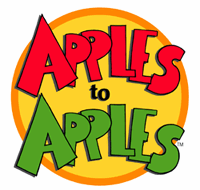 Full Text Description


For a change of taste, start by dealing five green apple cards to each player. The judge turns over a red apple card from the top of the stack. Players choose the green apple card from their hand that they think best describes the word on the red apple card. The judge then selects the green apple card he or she thinks is best, and awards the red apple card to the person who played the selected green apple card.



Summary Of The Rules Differences


Each player always holds 5 green apples instead of 7 red apples.

The judge displays a red apples instead of a green apple.



If you have e-mail regarding this Apples To Apples page, e-mail either here to return to the Apples To Apples Rules Variations menu.
Click here to return to the Apples To Apples main page.