Apples To Apples - Rules Variations
*****Picky Eaters*****
by Lara Stocker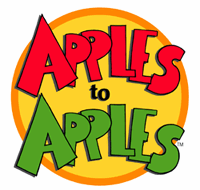 Full Text Description


Instead of playing with all of the red apple cards, sort them into categories (people, places, events, etc.). Each turn, the dealer would choose one such category, deal out 7 cards, and then collect all unused cards at the end of each turn. Each dealer much choose a different category from the one last chosen.



Summary Of The Rules Differences


Red apples are sorted by category with only 1 category used each round.

At the end of each round, unused red apples are shuffled back into that category's pile and the dealer selects a different category.



If you have e-mail regarding this Apples To Apples page, e-mail either here to return to the Apples To Apples Rules Variations menu.
Click here to return to the Apples To Apples main page.