Apples To Apples - Rules Variations
*****Diced Apples*****
by Wayne Yuen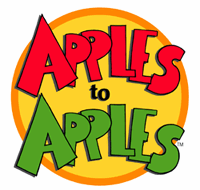 Full Text Description


Pick six "Apples To Apples" rules variations that can be played in one turn and number them 1-6 (or 5 variations and number the 6th one "none"). The Judge rolls a die at the begining of each round and the round will be played according to the rules of the variation that comes up on the die.



Summary Of The Rules Differences


Select six (6) different Apples To Apples rules variations and number them 1 through 6.

Before the green apple is revealed, the judge rolls a 6-sided die to select that round's variation.

Five (5) variations (with a roll of 6 being a re-roll), as well as four-sided, eight-sided, etc. dice can be used as well.



If you have e-mail regarding this Apples To Apples page, e-mail either here to return to the Apples To Apples Rules Variations menu.
Click here to return to the Apples To Apples main page.