Apples To Apples - Rules Variations
*****Apples And Oranges*****
by Nick Gosey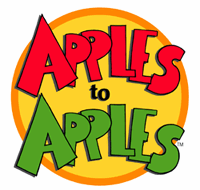 Full Text Description


Play as usual but continue until all of the green cards are exausted. Count the cards, whoever has the most wins the game. After the game each player reads the green cards they have won, these supposedly describe the person's personality. It can get interesting!



Summary Of The Rules Differences


Keep playing as normal until all green apples are gone.

The player with the most green apples wins.

Each player's personality is described by the green apples they won.



If you have e-mail regarding this Apples To Apples page, e-mail either here to return to the Apples To Apples Rules Variations menu.
Click here to return to the Apples To Apples main page.