Apples To Apples - Rules Variations
*****Democratic Apples*****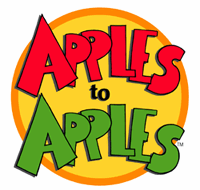 Full Text Description


Sometimes, people don't always agree with a judge's decision. In this Apples To Apples variation, the judge picks the top two apples. Then, everyone in the game votes (once) for the one they like the best. If there s a tie, the judge's vote is used as the tie breaker.



Summary Of The Rules Differences


Instead of picking the one winner, the judge chooses two, and the players vote on the winner.

If there is a tie, the winning apples is the one that the judge voted for.



If you have e-mail regarding this Apples To Apples page, e-mail either here to return to the Apples To Apples Rules Variations menu.
Click here to return to the Apples To Apples main page.