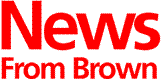 The Brown University News Bureau
38 Brown Street / Box R
Providence, RI 02912
401 / 863-2476
Fax: 401 / 863-9595
---
Distributed November 10, 1995
Contact: Linda Mahdesian
---
Author Douglas Adams To Discuss `Parrots, the Universe and Everything'
PROVIDENCE, R.I. -- Douglas Adams, creator and author of The Hitchhiker's Guide to the Galaxy, will speak at Brown University at 8 p.m. Monday, Nov. 13, in Room 101 of the Salomon Center for Teaching. A simulcast of the lecture will be held in Room 001 of the Salomon Center. The lecture is sponsored by the student-run Brown Lecture Board and is free and open to the public.

Adams' speech, titled "Parrots, the Universe and Everything," gives humorous accounts of the lifestyles of some of the creatures Adams has encountered in his travels. Included are his reflections upon what these animals may tell us about the future of human beings.

The Hitchhiker's Guide to the Galaxy, which started as a late-night BBC radio show, became an international phenomenon, with 15 million books sold and numerous adaptations on television, stage, tapes, computer discs and bath towels. The targets for Adams' humor include computer technology, evolutionary theory, baths and trees. He has been called the world's premier "science satirist."

Adams graduated in English literature from Cambridge University. His humor has appeared in seven best-selling novels: the Hitchhiker series (The Hitchhiker's Guide to the Galaxy, The Restaurant at the End of the Universe; Life, the Universe and Everything; So Long, and Thanks For All the Fish and Mostly Harmless), the Dirk Gently series (Dirk Gently's Holistic Detective Agency; The Long Dark Tea Time of the Soul; and The Salmon of Doubt - still in the works). Other books include a quasi-dictionary, The Meaning of Liff (with John Lloyd) and the travel and wildlife book Last Chance to See (with zoologist Mark Carwardine).

In development are a movie version of The Hitchhiker's Guide to the Galaxy (based on a screenplay by Adams), a television documentary series on evolution (to be written and presented by Adams) and a television series of Dirk Gently. Adams is one of the founders of a new U.K.-based multimedia startup, The Digital Village, which will be producing content software for television, CD-ROM and the Internet.

######
95-049