NanoFictionary - Rules Variations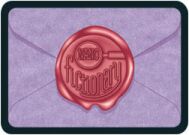 *****What Were You Trying To Say?*****
Full Text Description


After the last of the place cards has been claimed (when everyone's story is set to go), but before anyone tells their story, everyone passes all of the cards that were to make up their story to either the left or the right (decided upon before the game begins); all stories must have the correct components. This way, each person ends up telling a story with cards that somebody else collected. Essentially, you get to decide what story someone else tells.



Summary Of The Rules Differences


Before the game, decide right or left.

As soon as the last place card has been claimed, all players put their story cards in a pile.

All players pass their story card pile to the (right or left).

Each person tells a story with the cards that were passed to them.



If you have e-mail regarding this NanoFictionary page, e-mail either here to return to the NanoFictionary Rules Variations menu.
Click here to return to the NanoFictionary main page.
Click here to return to the Hotel XVR27's Games Floor.