Song List By Album - Straight Outta Lynwood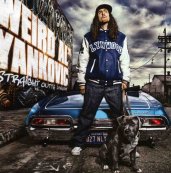 Straight Outta Lynwood Scans



Additional Album Credits...
"Weird Al" would like to thank...

1. White And Nerdy (Parody of "Ridin'" by Chamillionaire)
2. Pancreas (Original)
3. Canadian Idiot (Parody of "American Idiot" by Green Day)
4. I'll Sue Ya (Original)
5. Polkarama! (Polka Medley)
6. Virus Alert (Original)
7. Confessions Part III (Parody of "Confessions Part II" by Usher)
8. Weasel Stomping Day (Original)
9. Close But No Cigar (Original)
10. Do I Creep You Out (Parody of "Do I Make You Proud" by Taylor Hicks)
11. Trapped In The Drive-Thru (Parody of "Trapped In The Closet" by R. Kelly)
12. Don't Download This Song (Original)


If you have any e-mail regarding the "Weird Al" Yankovic portion of Hotel XVR27, send it to either . . . .