Song List By Album - "Weird Al" Yankovic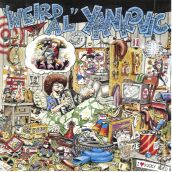 "Weird Al" Yankovic Album Scans



Additional Album Credits...
"Weird Al" would like to thank...

1. Ricky
2. Gotta Boogie
3. I Love Rocky Road
4. Buckingham Blues
5. Happy Birthday
6. Stop Draggin' My Car Around
7. My Bologna
8. The Check's In The Mail
9. Another One Rides The Bus
10. I'll Be Mellow When I'm Dead
11. Such A Groovy Guy
12. Mr. Frump In The Iron Lung


If you have any e-mail regarding the "Weird Al" Yankovic portion of Hotel XVR27, send it to either . . . .