Whose Improv Is It Anyway? : Original On-The-Spot Satire
An Interview With Dawn E. Emanuele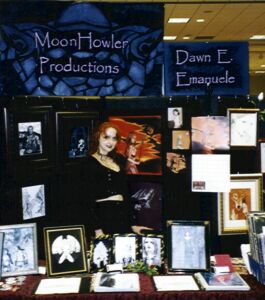 Dawn E. Emauele has many talents. She's done lots of acting, both improv and stage. She's been creating costumes for years. She's even been successful with martial arts and overcome a form of dyslexia. Based locally in Milwaukee, Dawn's current primary venture is her career as an artist. Working with her long-time partner (and boyfriend) Joel B. Talacko, Dawn not only promotes her art locally, but also travels to conventions (such as Origins & GenCon) and has gained more than a small following. Dawn's art consists of various form of painting, and well as her signature roses.

After arranging (at Origins 2002) for the interview to take place (at GenCon 2002), I did nothing more to prepare what I wanted to do than to brainstorm generalities - what categories I wanted to address was pretty much it. I did not script the questions ahead of time, nor did I know about all the categories that were discussed before they came up. I basically "went with the flow of traffic" on this one, keeping the interview itself as a work of improv. I have split up the interview questions into categories so that it is easier to find the desired information, with the full interview and a links section also included. Some of the questions may have fit into more than one category, and so have been listed more than once.
---
---



If you'd like to contact this website:
PLEASE NOTE : This site is NOT officially affiliated with either "Whose Line Is It Anyway?" series. here to return to the Improv Interviews List By Name.
Click here to return to the Improv Interviews List By Profession/Skill.
Click here to return to the Improv Interviews Main Page.
Click here to return to the Improv Main Site.
Click here to return to the Hotel XVR27's Humor Floor.