Song List By Album - Off The Deep End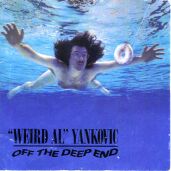 Off The Deep End Scans



Additional Album Credits...
"Weird Al" would like to thank...

1. Smells Like Nirvana
2. Trigger Happy
3. I Can't Watch This
4. Polka Your Eyes Out
5. I Was Only Kidding
6. The White Stuff
7. When I Was Your Age
8. Taco Grande
9. Airline Amy
10. Plumbing Song
11. You Don't Love Me Anymore


If you have any e-mail regarding the "Weird Al" Yankovic portion of Hotel XVR27, send it to either . . . .